Published on March 20th, 2022
A few weeks ago one of our new customers reached out and asked if FreshBuzzer could automatically synchronize bookings from Airbnb and create a Secure Access Code for each guest.
I had thought of this before but so far Airbnb has been a dead end and I had enough exciting ideas to explore already. But this request renewed my desire to get this working - how hard could it be...
Airbnb is a classic example of a technology company holding your data hostage. Hosts have been requesting access to their listings and bookings through APIs — a programmatic way for computers to communicate and exchange data — for years and all Airbnb has to say is:
At this time, we are not accepting new access requests for our API.
- Airbnb
FreshBuzzer + HostTools.com
Luckily there are already existing partners of Airbnb that FreshBuzzer could cooperate with. I reached out to the one that my customer is already using 👉 HostTools.com and got in touch with their founder Tom.
Tom confirmed the difficulties to access any data from Airbnb, but pointed out that his platform allows the user to export their data as an iCal calendar. iCal is an open and standardized data format for anything calendar related - you might have come across it if you ever tried getting additional calendars added to your Google Calendar. Also, by building on top of this open standard, it will be trivial to extend calendar sync to other tools.
Access Code Calendar Sync
Without going too much into specifics, the calendar sync will periodically check the 3rd party calendar configured by the user. FreshBuzzer is looking for any events that represent a booking of the property and automatically create a Secure Access Code for each booking. Most platforms will set up smart door locks with a code based on the guest's phone number (e.g. the last 4 digits). This is easy to remember for most guests but hard to guess for other people.
There is a new iCal Sync menu option in the Secure Access Codes section. This will bring up a view to configure the calendar sync. It requires the URL of the calendar as well as the check-in and check-out time of the property and the buzzer key that needs to be pressed to open the door.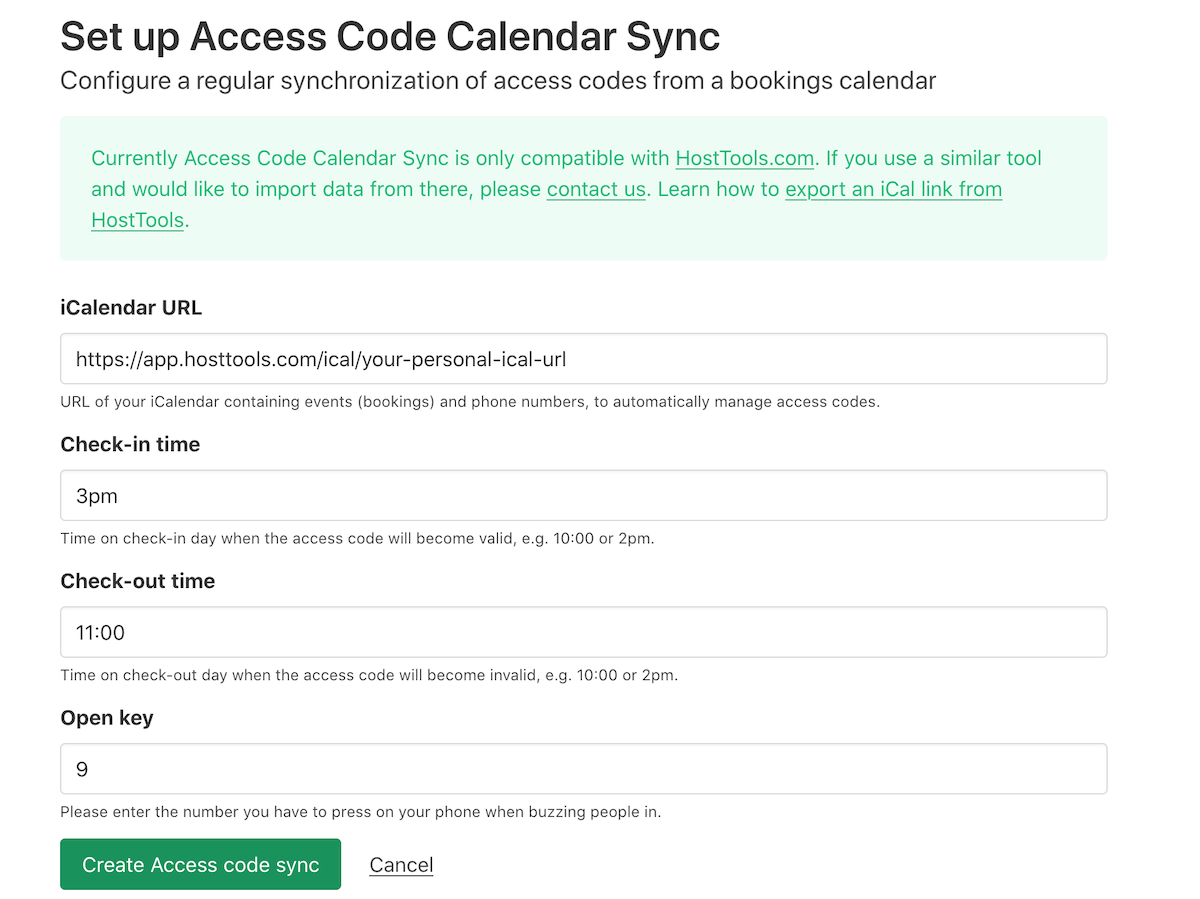 Set up your Access Code Calendar Sync
When a calendar sync is set up or updated, the system will automatically synchronize the calendar events and continue to do so every hour. Any synchronized access codes as well as the last successful synchronization date are shown together with any other Secure Access Codes.
Any access codes that are synchronized from calendar bookings cannot be deleted or edited as the next sync would overwrite any changes.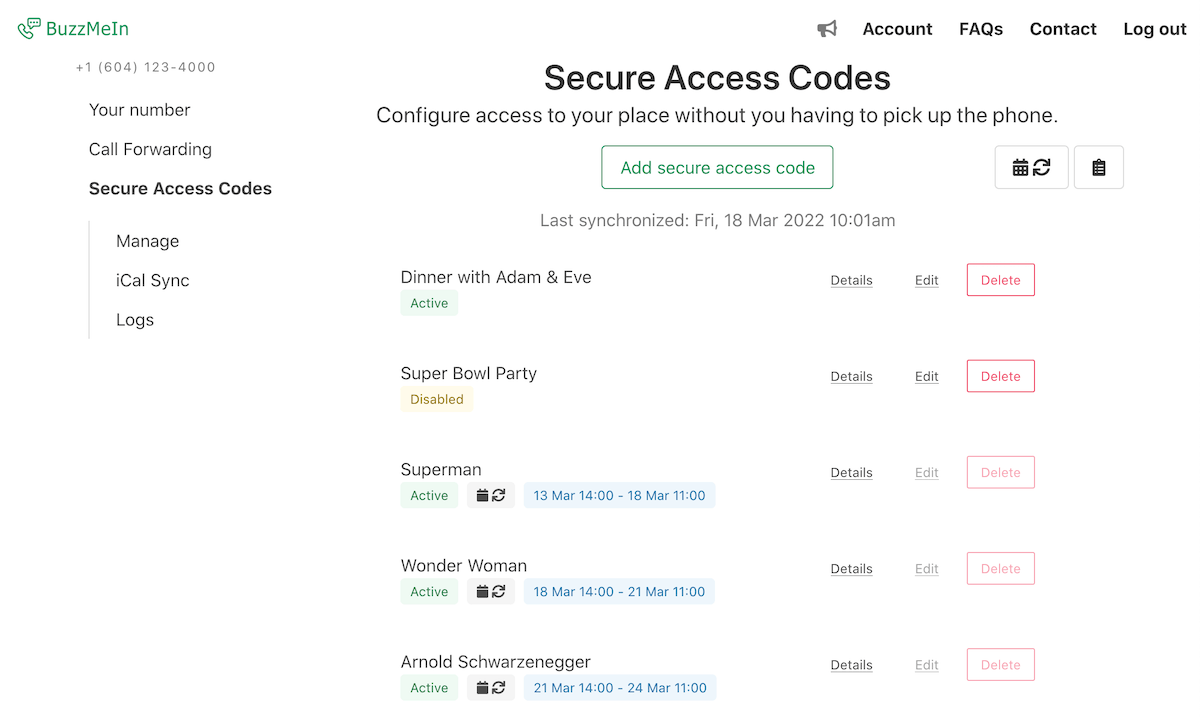 All Secure Access Codes in one place
Hopefully this feature will prove extremely useful for anyone managing short-term rentals. If you do and are not using any Property Management Tool, I highly recommend HostTools.com. If you are already using a similar tool and would like to configure Secure Access Code Calendar Sync, please reach out and we can make sure it works perfectly with FreshBuzzer.
FreshBuzzer Professional
Secure Access Code Calendar Sync is only the first feature specifically designed for professionals - in this case short-term property rental like Airbnb, VRBO et all. Therefore this feature is only available on a new premium plan called FreshBuzzer Professional.
Existing users can upgrade to the new plan, whereas new user can try it out for free during our 28 day trial!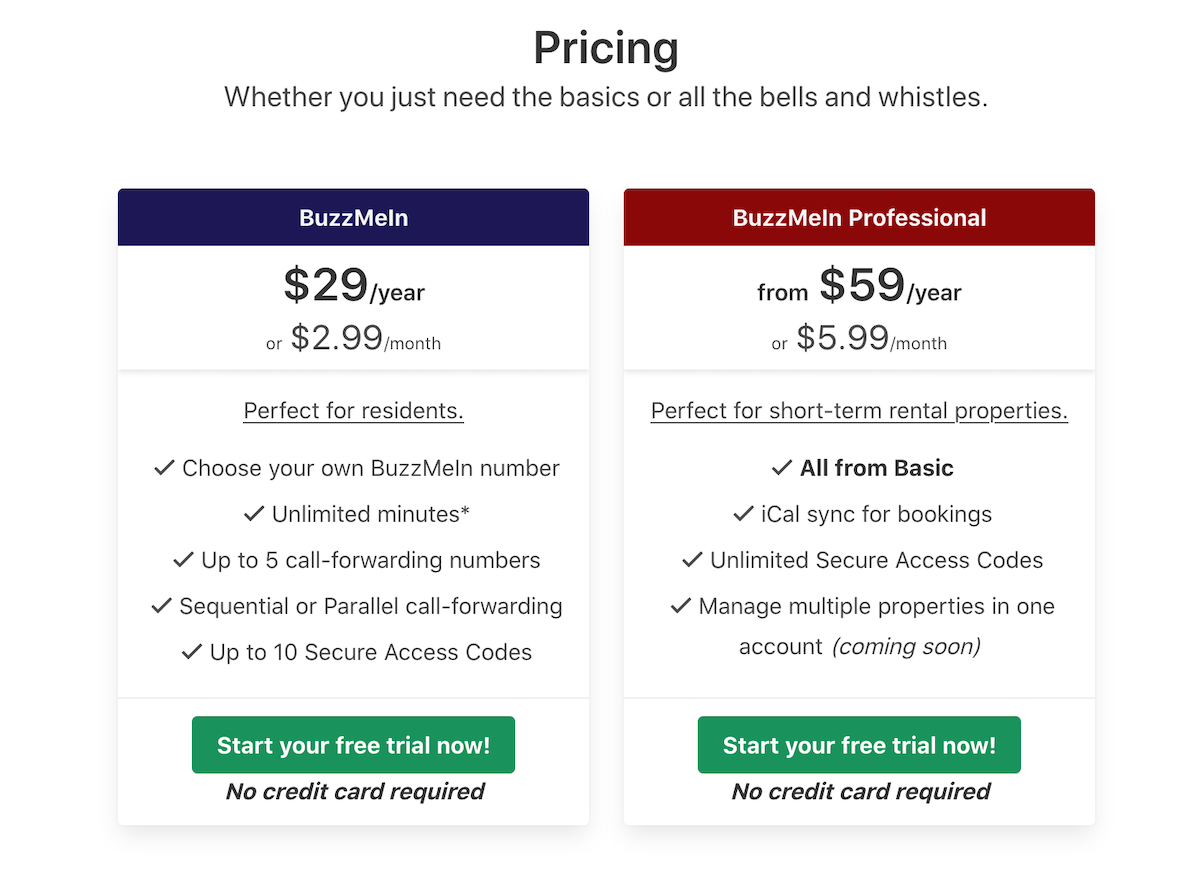 New FreshBuzzer Professional plan
The new Professional Plan will also soon support managing multiple properties in a single account. Stay tuned!
Cheers,
Axel